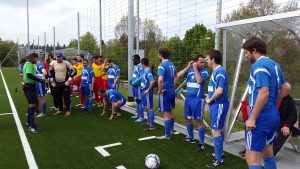 Despite a spirited comeback and a much improved performance, the second game of the spring season ended in a 3-1 loss to league leaders Uitikon.
After a nervous start which saw us concede a lucky goal (meant as a cross), we went into half time 1-0 down. Shortly into the second half, after sending on some fresh legs, we pulled back a deserved equaliser from a corner.
Many chances fell to both sides from then on. Man of the match Brett kept us in the game with a series of fine saves. We were then unlucky not to take the lead after the referee didn't see the ball cross the line following a goalkeeping blunder by the Uitikon number 1. To compound the bad luck, Uitikon took the lead soon after with a close range tap in at the near post.
Hard took risks to try and salvage a result from a good performance, but were caught by a counter attack in the last minutes, resulting in a converted penalty to make it 3.
Hard could hold their heads high at the final whistle, and go into the next game with renewed belief and full confidence in obtaining​ 3 points from league strugglers, Knonau Mettmenstetten next Sunday morning at Brunau. Kickoff 10am.
Paul Hughes